Dance, thrust, dance, thrust, dance, bang, thrust, bang! Where you gonna be this weekend? Here's where.
Heritage
celebrates its first anniversary,
Roxie
celebrates its fifth,
Uptown Records
celebrates Record Day,
Mikeller
is hosting burgers you'll need two hands to eat, and there's an interesting brewery from Hubei taking over the taps at
Beer Barrel
. Plus, a handful of parties and shows over on
SmartTicket
, too...
*


Friday, August 28 @ Heritage By Madison
The one year anniversary of Austin Hu's baby is already coming up. They're bringing all their pop-ups back for one night of absolute gluttony; MSG, Taco Chino, Dirty Dogs, Americano and Royale Steakhouse, all served in modern "dim sum" style by Chef Austin Hu. For drinks, there will be retro shots bar, frozen boozy slurpees, a Peroni beer station, a Botanical GT trolley, rose bar and loads of guest bartenders. DJ Gecko Hone playing disco house all night. 248rmb pre-sale gets you in and as much as you can eat and drink, or else 298rmb on the door. Heritage wansui!
Friday, August 28 @ Beer Barrel
Devils' Brewery is a Hubei brewery that has rustled up some sensational seasonal ales as well as a rock-solid range of core beers. For the first time, these unique brews will be departing their home province to grace Shanghai's taps. Stop by Xuhui beer garden Beer Barrel this Friday to sip on some brews with a special fruit and sour beer training course, complete with a charcuterie board, starting at 7pm. 150rmb for the tasting course, all tap takeover beers are 55rmb for 470ml.
Saturday, August 29 @ ROXIE
The one and only Roxie is celebrating her 5th birthday! The crew at Shanghai's most inclusive bar has invited special guests to perform all kinds of acts, nudge, and DJ Iku Iku and DJ Rain are keeping the jams going all night. No need to RSVP, just show up, get in, donate your bra and get down. Starts 8pm and is guaranteed to go late.
Saturday, August 29 @ Uptown Records n' Beer
Uptown Records n' Beer is hosting a 2020 Record Store Day Party that includes DJs Shingo, Tina Turntrick, Trius, and Go See spinning their favorite jams. There is also lots of records for sale and a free Uptown Records tote bag offer. Usually held in April this year's record store was pushed back until August 29 for... some reason. Along with Uptown there will also be Record Store Day events at neighboring stores
The Melting Pot
and
Daily Vinyl
.
Friday & Saturday, August 28-29 @ Mikkeller Tasting Room
The trendy smash burger pop-up from the Taste Collective returns after a year's absence, teaming up with Chris Zhu and the similarly trendy Danish craft beer bar. Two burgers available, one with marinated crispy tofu and mushroom patty with cheese, onions pickles, one with two beef patties smashed to order with cheese, onions, and pickles, all served on a potato bun with secret sauce. Goes 5pm to late!
Friday, August 28 @ Ruiku
MVP & FoS are putting on an ode to Sin City on a Bund rooftop. DJs spinning as much house as 60s/70s beats. Try your luck for a drink or bottle at the roulette wheel. Pre-sale ticket is 80rmb, comes with a drink and two chips for the games (no actual money being gambled here, y'all!). Table packages for groups starts at 2,000rmb with a bottle of champagne.
Saturday, August 29 @ The Pearl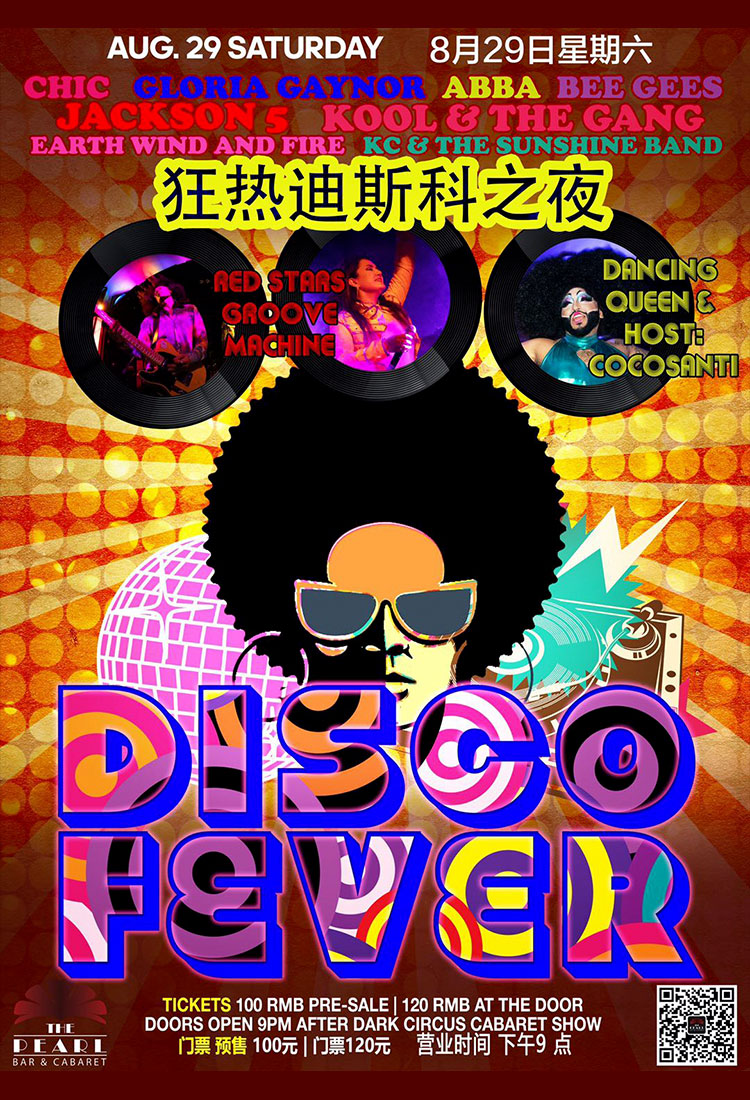 Disco feeeeever! On the stage at the Pearl is Chad Romero, a veteran boogie-down activist, Rhian, bringing soulful tunes, and Ksenia rocking out disco hits, backed by The Pearl Red Stars band. Boney M, Jackson 5, Chic, Kool and the Gang, Bee Gees, Earth Wind and Fire, Chaka Khan... whatever the band doesn't cover, the DJ will. Dress in your funkiest, baby. Doors open 6pm, DJ starts at 9pm after the
Dark Circus Show
and goes all night, the band starts at 10pm.
Saturday, August 29 @ Eat N Work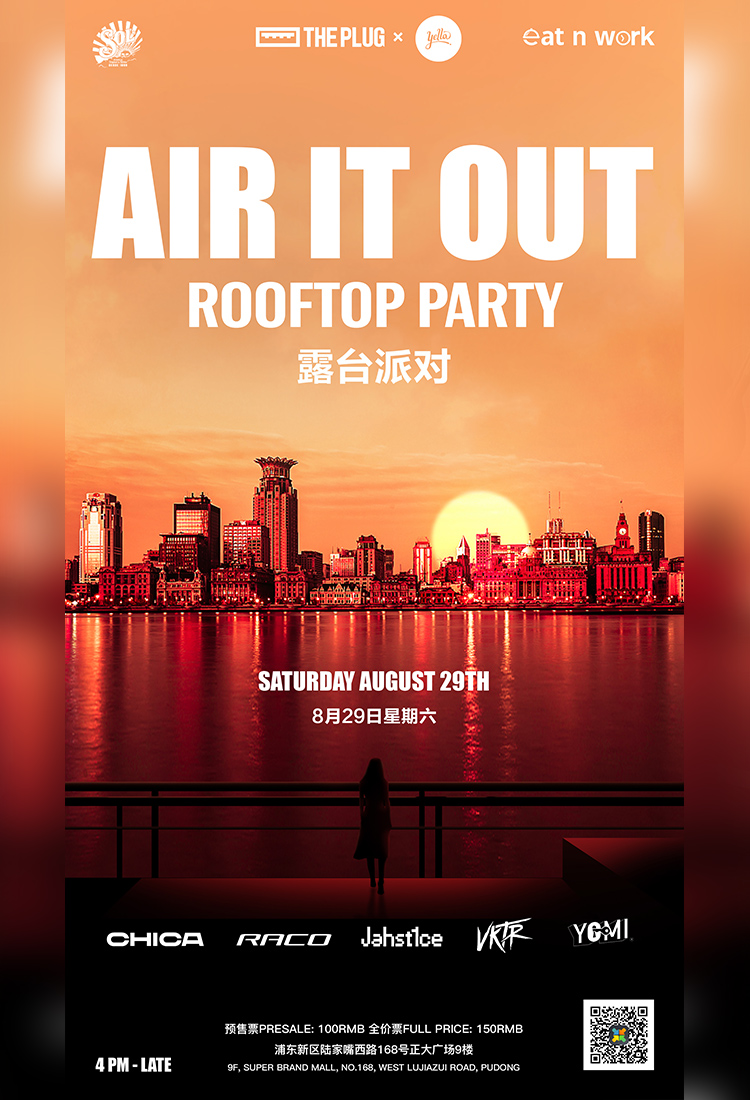 The Plug and Yella Crew come together to throw a party on the Pudong side at a sassy new rooftop. They promise DJ's spinning hip hop, funk, disco, trap, and lofi beats from 4pm til late, as you watch the sun set. Presale ticket is 100rmb, comes with a drink. Door ticket is 150rmb.